Neuroengineering medical group from UMH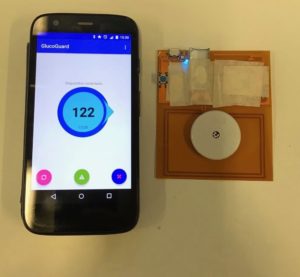 Glucoguard is a system comprised by an electronic communications bridge between NFC and BLE and an App for reading the BLE information.
Glucoguard is part of the DiYabetes project that deals with technologies for improving the management of the diabetes disease. When used with the FreestyleLibre tag, Glucoguard can be used as an alarm system that turns the flash monitoring system into a real CGM.
Glucoguard is not maintained by Abbott. It's just a experimental DIY project, where everybody can build her/his own bridge. Do not make medical decisions based on the app data.

We have only use outdated NFC tags. Do not use with currently being used tag. NFC coupling could damage the tags.
There are different versions of the Glucoguard system. You can built your own system, depending on your needs for experimentation.
The source files for the apps can be found on Github under a open-source scheme.
Github repository for Android app.
Github repository for IOS app.
A compiled version of the last stable version can be download from Google Play and AppStore.


Version V1

This version is built using an Arduino Uno board, a house-made shield, an Adafruit module for BLE and a Solutions Cubed breakout for NFC communications.

This version allows you to dump the blocks of the FSL memory and experiment with a calibration scheme. It also connect the NFC tag with Matlab, and it allows you to get the data inside Matlab.

All files, including BOM components, Arduino programs, schematics of the house-made shield and a building guide can be found on this page. (2017-ene-25: under construction)

Version V2

 This version is built using a Texas Instrument CC2650 LaunchPad developer board and a Solutions Cubed breakout for NFC communications. This version is built over a breadboard.

This version allows you to test the performance of the micro controllers programs and to evaluate the communications with the apps.

All files, including BOM, TI programs and a building guide can be found on this page. (2017-ene-25: under construction)

Version V3

pre-assembled V3

 This version is built using a Texas Instrument CC2640 controller, a CR95HF RF transceiver and a hand-made NFC and BLE antennas.

This version allows you to develop your own antennas for improving communication distance.

All files, including BOM, TI programs and a building guide can be found on this page. (2017-ene-25: under construction)
A video showing the concept of the Glucoguard system is following:
How to use the Glucoguard system:
Contacto
Av. de la Universidad s/n
José María Sabater-Navarro
Tlf: +34
email: